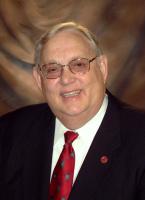 SAMMY FLANARY MEMORIAL SERVICE
THURSDAY, JULY 18, 2013
6:30-8:00 P.M.  (RECEPTION TO FOLLOW)
SUNSET CHURCH OF CHRIST
3723 34th Street
LUBBOCK, TEXAS, 79410
Live and Recorded Broadcast

Sammy Flanary passed from this life to his eternal reward on July 11, 2013, at Covenant Hospital in Lubbock.  Sammy had recently returned from a productive but physically challenging mission trip to Athens, Greece, and the Island of Crete. He was hospitalized for almost two months before his death.

Sammy graduated from Sunset School of Preaching in 1974 and served for many years as an evangelist and church planter in several US locations, before answering the call to preach in Eastern Europe and Russia when the wall came down.  Prior to their move to Perm, Russia for several years, Sammy and Mary graduated from Sunset School of Missions.

For the past 16 years Sammy has served as missions coordinator with the International Division and Advancement Department of SIBI.  In that role he has been actively involved in training programs in Athens, Greece, and Donetsk, Ukraine, as well as mission works in Paris, France and Cairo, Egypt.  Sammy was a skilled teacher of the Word and a constant soul winner.  Through the years he has excelled in mentoring younger men, who will undoubtedly continue his mission efforts.

Sammy loved Mary, his wife of 53 years, and his two children, their spouses and his grandchildren.  Sammy and Mary have a host of friends, family and coworkers who will miss our dear brother.  Please pray for Mary and all those who mourn his passing but rejoice in his reward.
In lieu of flowers, the family is requesting memorials sent to 37th Street Church of Christ, 2500 37th Street, Snyder, Texas 79549 c/o Sammy & Mary Flanary Memorial.