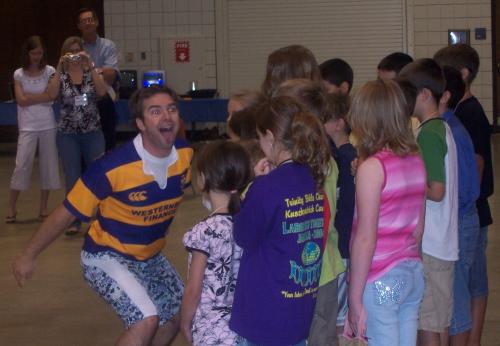 Several of us at Sunset were blessed to be together at the Global Missions Conference in Arlington, Texas. It was a great gathering and many of our mission partners were there. Brenda, along with her mother and her sister Sharla, taught the third through sixth graders who attended the conference and several of us (Truitt, Jay and I) were able to teach classes there.
It was great to be reunited wth several of our graduates, including David and Olivia Nelson who are on their way to Kharkov, Ukraine as a part of a church planting team from SIBI and MRN. They met while Olivia was an AIMer in New Zealand. David had lived there most of his life as part of a mission family and was raised as a 'Kiwi'. David and Olivia graciously offered to come a assist in teaching the third through sixth graders about missions.
David is pictured here doing the HAKA. It is a tribal ritual of the indigenous people of New Zealand. The All Blacks rugby team from New Zealand performs this ritual before their matches and it has come to symbolize the country. I became familiar with it while in New Zealand and was excited to see David perform it and teach the kids how to do it. David stressed that it was very serious and that there was to be no smiling while the HAKA is being performed. As you can see, David was really into the role, but I almost see a smile creeping up on his face. I couldn't help but smile as I thought about how pleased God must be with this young mission family that came through Sunset together and about how pleased He is that they are going to plant congregations in Ukraine. This team is really going to be a blessing to Kharkov, Ukraine, the former Soviet Union, and Eastern Europe.
Brenda and I really enjoyed the conference and I think it was a positive and rewarding experience. It was wonderful to be at a conference so focused on global missions and evangelism. Visiting with our mission partners, joining in worship with the saints, presenting the work of Sunset, and spending time with our family (physical and spiritual) was a great blessing and valuable in many ways.  The Paden family, Wendell Broom, and Parker and Donna Henderson were given special honors for their contribution to world missions. It was inspiring!
While it will be good to get a few things done at Sunset before beginning the school term, I hate to see the summer come to an end. It's been busy, but great!