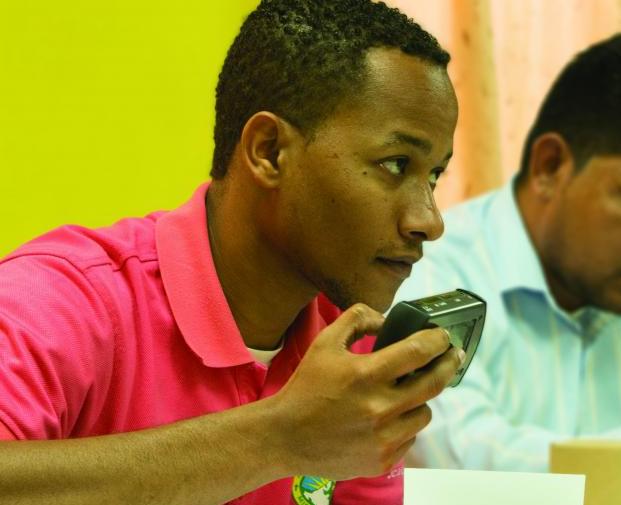 Over the past 15 months, funds have been collected, lessons have been translated and SD cards have been loaded. Now it is time for thanksgiving to God. Last year a few deliveries were made, but most of the 3,000 solar players for Phase III will be delivered in the next few months. While we are still receiving the remainder of the $1,500,000 needed for completion of the project, enough has been received that many of the trips are already scheduled. At this point, plans have been made to deliver the remaining Spanish solar players to 13 countries: Argentina, Bolivia, Columbia, Costa Rica, Cuba, Dominican Republic, Ecuador, Guatemala, Honduras, Mexico, Nicaragua, Peru, Puerto Rico, and Venezuela. Through these trips, God will be praised and thanksgiving will be made for the Word of God.
Two of those trips happened in February, with 200 solar players going to Mexico City and 160 going to Honduras. Those delivered to Mexico City will be used by missionaries to distribute to churches and help equip members with the over 400 hours of biblical training that is available. The deliveries in Honduras will be in partnership with Mission UpReach and the Baxter Institute. Last year Richard Baggett spoke to a group of Baxter Institute alumni at an annual meeting to see what kind of interest these preachers would have in using this ministry training tool. He returned with pages and pages of names from ministers already working around the country in need of this tool to help them grow churches and develop stronger leaders. For the past few years, Adventures in Missions has partnered with Mission UpReach by sending AIM teams to help this ministry. Mission UpReach has a vision to plant 1,010 churches within their area of Honduras. Arthur Puente was able to train these church planters with solar players to use as they develop leaders in these new churches.
In March teams from Sunset continued to deliver solar players into Central and South America. Tim Burow was able to take 75 players to Columbia. The original intent was for the players to be distributed in Venezuela, but due to the ongoing problems in that country, he was only able to deliver the remaining 75 through the border. Chris Swinford and Christian Thompson took 80 players to Costa Rica. Luis Melendez ('09) organized a meeting of church leaders where they were trained how to effectively use the players to grow their churches and plant additional ones.
In October of 2016, we reported about additional funds given to deliver 400 more solar players to Africa to continue the important work we began in Phases I & II. God has continued to put this need on the heart of a few key donors. In December, more funds were given for another 400 solar players to be taken to Africa. Many of the first additional 400 solar players have been delivered and more solar players will be delivered as we are able to make trips to various locations in Africa.
Looking Ahead
Even as Phase III in Spanish continues in full force, steps are beginning to provide the same training material for other languages. In response to the refugees that continue to pour into Europe, work has begun to translate material and provide training in Arabic. These Arabic solar players will be supplied to churches in Greece and Germany that are working with refugees and converting Muslims to Christ. Work has also begun to translate all of the Sunset courses into French. This will mean that an additional 220 million French speakers will be able to learn the Word of God and grow as leaders in Christ. This will enable Sunset to go to the 40% of Africa that speaks French.
Jeff Rader, Lifeline Editor


Originally in Lifeline.