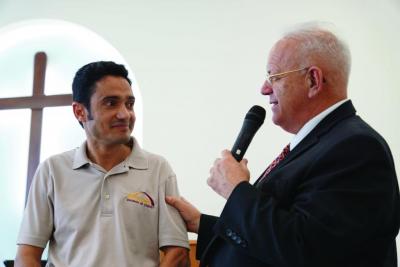 Since 2014, there has been much in the world media concerning the refugee crisis in Europe and the Middle East. Immigration is a politically and emotionally charged subject with very passionate voices speaking on all sides of the issue. The American media has been filled with images of demonstrations and protestors. The numbers are staggering. Since 2014, over four million people from the Middle Eastern nations of Syria, Iraq, Iran, Pakistan and Egypt have applied to the European Union for asylum. The largest number are families and individuals fleeing the war-torn nation of Syria.
In response to the crisis, Bill McDonough, Director of Partners in Progress, joined with the Glyfada Church of Christ to host the Athens Refugee Conference in November of 2016. Congregational leaders from across Europe were joined by key mission ministries from America. More than 100 people attended the five-day event. Those attending were impressed to hear from former Muslim immigrants who are now believers in Christ and serving in Athens and other European cities. The group was invited to visit a relief center operated by Hellenic Ministries where 200-300 immigrants receive a warm meal each week.
Sunset was well represented in Athens. Over 30 percent of those attending the conference were associated with Sunset. Francis and Alfred Habashy made the journey from Cairo, Egypt. Wissam Al-Aethawi, Doug Reeves, Richard Baggett and Tom Rucker traveled from the United States. They were joined by Sunset graduates and co-workers from Bulgaria, Ukraine, Albania, Romania, Germany, Greece and other nations. It was an excellent opportunity to hear from European congregations reaching out to immigrants in their communities. Representatives from Sunset wanted to raise awareness of the resources currently available and to brainstorm on how Sunset can help congregations and missionaries respond to the crisis.
Christians are presented with a unique opportunity, and Sunset is working diligently to meet this urgent need. Sunset is working in cooperation with Eastern European Missions to translate quality study materials and Bibles into Arabic. Some of the materials being translated in Cairo include The Newcomer's Guide to the Bible and an illustrated Bible for adolescents. High on the list of priorities is to translate several of the World Bible School lessons.
Sunset is also producing audio recordings of all the translated materials for use on solar players and other personal electronic devices. These same recordings and written materials will be made available on a web page in Arabic hosted by Sunset at http://ar.sunsetonline.org. There remains, however, more needs than to provide reading and listening materials. Congregations throughout Europe are desperate to know how best to reach out to refugees as they are relocated into their communities. Experienced evangelists such as Francis and Alfred Habashy are already coordinating plans to conduct outreach seminars and campaigns with European church leaders. The first campaign was in Bremen, Germany, in March.
Many from Sunset extended their stay in Athens beyond the November conference, allowing them time to pursue other contacts and learn more about what is being done for refugees and what needs still remain. There was no formal plan or agenda. Francis and Alfred have developed good relationships with some of the Arabic-speaking believers in Greece. There is a group of Egyptians there who worship Christ, and Kamel, the leader of the group, invited Wissam to share the story of his conversion. This was the first time Wissam had ever shared his story in his native language.
One of the church members offered to take the group to some of the relief camps, the very place the refugees are housed and held until they are relocated into Europe. At a camp for families and single women, Alfred and Francis shared cookies, a smile, a kind word and simple compassion with the children and the apprehension melted away.
They also visited a camp for single men where security was tighter and no pictures were allowed. Some of the men had expressed an interest in knowing more about Jesus Christ. It was impossible to speak with them openly in the compound, so at a coffee shop a few blocks away, Francis, Alfred and Wissam talked with them. They had brought two solar players to Athens that had some Arabic materials installed, and Alfred gave these men one of the players as a gift. They were excited to have something to listen to, since they have little to do all day except watch TV and wait. The next morning, two of them wanted to visit at the hotel and learn more about Christ and His church. It was not long before they made the decision to be immersed into Christ for the forgiveness of their sins.
War is always a terrible experience resulting in needless death, destruction, and untold suffering of the innocent. The civil war in Syria is no exception, but the war is having an unexpected impact on the thinking and beliefs of many Muslims. Many young people have witnessed firsthand the horrific war being waged by Muslims on other Muslims. They are abandoning a religion that advocates violence and murder, but they are unsure where to turn or whom to believe, leaving them searching and seeking for answers and peace.
There was a common message at the conference. The former Muslims said it was someone who cared for them that opened the door to learn about Christ. When refugees experienced the love of Christ, when they were shown Christian kindness, when given a warm meal or clean clothing, those small gestures had a profound impact.
As an example, Rosemary is an immigrant from Kenya who came to Athens to be with her husband and begin a new and better life. Her husband passed away only three months after their family was united in Athens, but Rosemary remained in Greece with her children. She learned about the Athens International Bible Institute from her friends and enrolled. It was a lifelong dream to study the Bible and serve others. Rosemary saw the growing number of homeless and poor in her neighborhood. She was aware of the refugees and immigrants on the streets of Athens.
One cold morning, she was waiting for the subway. The terminal was filled with the homeless trying to stay warm, and Rosemary decided that something had to be done. She returned to her house and prepared hot tea for as many as she could. That was the beginning of Jehovah Jireh which translated means "Lord who Provides." The ministry continues to grow. Rosemary has organized other mothers from Kenya, Ghana, Nigeria and Greece to help prepare meals and distribute clothing to the homeless. While others were attending the Athens Refugee Conference, Rosemary and her "moms" were providing a warm meal for almost 1,000 people.
A former Muslim said during the conference a thought that deserves a response:
For a long time it has been impossible for you to come to me, but now God has brought me to you.
Doug Reeves, Dean of Ministry Training in Europe
Reprinted from Lifeline