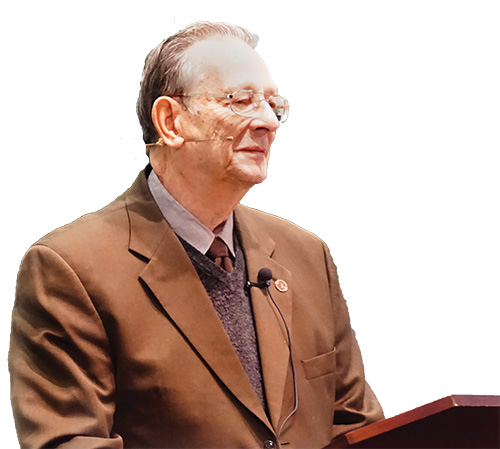 "Please see me!" was the theme of Bob Anderson's talk at the 2017 Sunset Workshop banquet. "The Deaf speak with their hands, their eyes, their hearts, their body language. They want to be seen and heard." Bob has been a part of the Sunset deaf program for 35 years, but his story didn't begin in a classroom at Sunset. It began on a pew in a small church in Chicago on March 1, 1942. A young boy heard the Gospel preached, walked down to the front and said, "I believe in Jesus Christ," and was baptized. Always sitting next to him was his older brother—a brother who had never heard a sermon, a song, or a prayer, who could not read or write, who was deaf. One brother had always heard about Jesus and one had never heard about Him.
There was an elder at the congregation  who wanted his son to attend Harding. This elder convinced Bob's parents to send Bob to Harding as well. Bob's story was planned in the heart of God and carried out in the halls of Harding. In 1949, one of Bob's classmates mentioned to a group that he wanted to begin a sign language class. Only Bob's hand went up. Bob went to Sam's home and began to learn hand signs and the alphabet. Harding opened the doors for Bob to learn and teach sign. He worked with Sam and a group in Little Rock, Arkansas, to teach deaf children about God. God sent Hollis Maynard to learn from and with Bob. What history these two have made in the Deaf world and around the world. "I raised my hand one time, and now 60 years later many people are still learning sign language with me," said Bob. Bob has a bachelor of arts degree in Bible and biblical languages and a master of arts degree in religious education. He has preached in Indianapolis, Indiana, Maywood, California, and Lubbock, Texas.
Bob began teaching with Hollis at Sunset in the fall of 1982. They took turns interpreting the hearing classes, teaching deaf classes, and interpreting for the Sunset church on Sundays. He has taught beginning sign language classes for hearing students and has taught the Hebrew language to the 7:30 early morning class. After Hollis left in 2011, Bob served as the director of the deaf program until Dennis Wilson came to SIBI in 2013. Dennis, the director of the deaf work at SIBI now, knows first hand the love of Bob. Bob taught and baptized Dennis' parents, Arthur and Nancy, in 1959. Now, two generations later, Arthur and Nancy's grandchildren are on the mission field teaching sign to those who are neglected and forgotten. Rex and Abbie Wilson were sent through AIM to work with Mission UpReach in Honduras and have started a government-recognized school for the Deaf. All of this has happened because one young man raised his hand.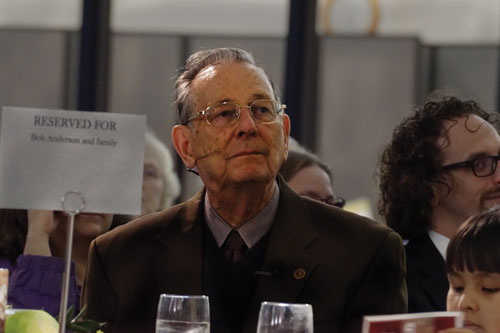 "Please see me!" is a phrase Bob uses about the Deaf. They have hurts and problems. They have hopes and dreams. Bob is one of the most caring, kind, compassionate, soft-spoken and faithful men who has worked at Sunset. Not only does Bob teach in the school, but he is one of the main interpreters for the Sunset congregation. Bob has been to India, Romania, the Czech Republic and the Philippines working with the Deaf. He has taught hundreds of hearing and deaf people. 
At the end of this school year, Bob will be retiring from teaching at Sunset. For 60 years of sharing the Gospel, preaching and teaching with his hands and heart, Bob has been a great ambassador and advocate for the Deaf. SIBI and the Sunset congregation have been blessed with Bob's love for the Deaf.
Linda Wagner, Advancement Office Manager
Reprinted from Lifeline, Spring 2017