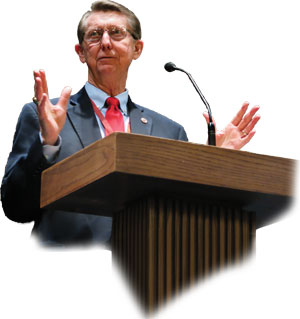 "If my people, who are called by my name, will humble themselves and pray and seek my face and turn from their wicked ways, then will I hear from heaven and will forgive their sin and will heal their land." 2 Chronicles 7:14  
Yes, Sunset Means the World, but the United States of America must be a significant part of that world ministry. There has never been a time when the spiritual need in our own nation has been greater. America is rapidly losing her moral compass, and Christian values are disappearing. The growing list of moral failures in American society is evident for most Christians, but what to do about it is not as apparent for many of our brethren.
Without diminishing our international ministry involvements, it is time for Sunset to help lead the charge to address the spiritual needs in our own communities, cities, states and nation. We cannot do everything, and we cannot solve all the nation's moral and spiritual ills, but we can and will respond with the gifts, talents and resources that God supplies.
Here are a few things we would like to initiate or expand, with your help, to address our nation's growing moral and spiritual needs:
Training More American Ministers—There is a diminishing supply of preachers for congregations and communities here. Our goal is to double the number we are training and sending out to American communities over the next five years by greatly expanding our recruiting efforts and increasing our scholarships.
Future Preacher/Leader Camp—We need to begin earlier to steer young people toward preaching and spiritual leadership by beginning a camp for sixth graders through high school. We must try harder to help shape the spiritual future of our youth.
Interactive Training Sites—Not everyone can move to Lubbock to study, so we are expanding our interactive training sites from our current one site to six in order to allow more students in local congregations to have a real-time window into our classroom to prepare for ministry.
Congregational Leadership Training—Many local congregations are hurting for more and better leaders, so we are beginning the Sunset Academy of Leadership Training (SALT). Potential leaders will be invited to Sunset for seminar training, and we will take these seminars to strategic sites to accommodate leaders in various regions.
Campus Ministry—Our secular college campuses present a wonderful opportunity to evangelize the unsaved and to affirm faith in the saved while they are young. We are initiating a campus ministry using AIMers as they return from 15 months on their mission field. Those who qualify will be directed to participating campus ministries and provided with scholarship money to enroll in a neighboring university and evangelize and be a godly influence while they work on their degrees.
Church Planting—Churches in many communities are growing old and dying. New congregations need to be planted while we help to renew spiritual health and growth in older congregations. We envision helping to plant 10 new congregations in the next few years.
Muslim Evangelism—The Muslim influence is growing in America. The largest population of Arabic Muslims is in Dearborn, Michigan. We want to help plant an evangelistic church and ministry base in the heart of this community. The evangelist and initial leader of this new congregation is Wissam Al-Aethawi, an Iraqi convert from Islam and recent Sunset graduate.
Evangelistic Outreach—We must do more to help our congregations reach the lost in their communities. By partnering with outreach ministries like World Bible School, HomeMissions and Gospel Sharing Ministry, our faculty and student body can help churches in America grow through more evangelism.
Spanish Ministry—Hispanics are America's largest minority group. While that ethnic population is growing exponentially, Spanish-speaking congregations are typically not growing. We plan to train more Spanish-speaking preachers and help equip their congregations for spiritual health and growth.
To expand current ministries and begin a number of new ministries will require a significant increase in financial support. The good news is that many of you have been faithful in giving to this ministry and continue to support Sunset faithfully. We are thankful to God for you.
Truitt Adair
Reprinted from Lifeline, Spring 2017