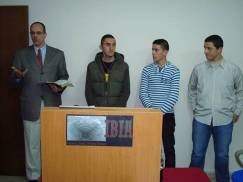 Four short months ago we were not certain if we would have any students enrolled in IBIA. Then we had four, then five, then six and finally it ended up that we have three. Our three full time resident students are: 1) Ermelin Pëllumbi who is from a small village outside of Korce. "Eri" is a 19 year old that completed a high school for foreign languages in June of 2007. Italian was his first language and English was his second language. His family religious tradition is Muslim; 2) Arlind Veshti is from Durres. "Ari" is a 19 year old that completed a high school for art. He has had one year of university. His family religious tradition is Muslim; 3) Amarlind Kepi is from Durres. "Amaro" is a 24 year old that completed high school and then went to two different music schools. Before coming to IBIA he was part of a band. His family religious tradition is Muslim.
On Saturday, January 19th, IBIA held an open house and invited all the congregations in Albania. We were blessed to have 61 people join us to celebrate the beginning of this new group of students in our new facility in Durres. There were 9 different congregations in Albania represented showing their unified support of IBIA. What a blessing to see the excitement they all had about IBIA and the encouragement they gave to the new students, the staff and the faculty.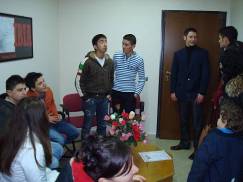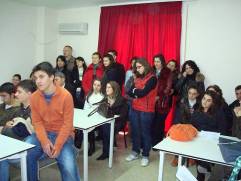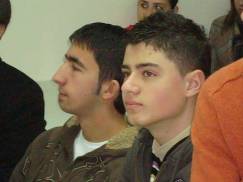 We began classes on Monday, January 21. This term we are studying: 1) The Gospel of Luke; 2) Confident Preaching; and, 3) Spiritual Wholeness. Spiritual Wholeness is our afternoon course in which we have two part time students attending. They are Elvin Xhimitiku a high school senior and Nikolino Kosta who is also in high school.
We are excited about our new facility. We worked throughout our Winter Break to get the facility ready. We still have a few finishing touches to complete, but overall it is fully functioning. We want to thank those of you that assisted us with purchasing the new washing machine and the three new air conditioners (these air conditioners heat and cool).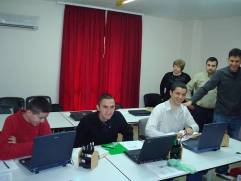 Our current staff is Rita Kosta (cook and cleaner); Altin Koci (translator); Antoneta Findiku (congregational relationship development secretary); and, Alfred Dimce (congregational relationship development). Both Altin and Alfred are in the planning and preparation stages for planting two new congregations in the next year or so. Our new students will learn so much as they participate and get to see up close the step by step process of what is involved in planting a new congregation. This will be such an invaluable resource in their training and development in IBIA.
We still need financial partners for Altin's support as our translator and as he prepares to plant a new congregation in the Durres area. We also need some one time funding (about $1,500) to purchase either a generator or inverter.
We thank you for your continued partnership with us in this endeavor.
To His glory,
Steve Stamatis