I want to share with you one story of how God is changing lives through ministry training. Joe Carrasco's life was in shambles. Joe's wife had abandoned him and his two sons, they lived in a sparse home with no electricity, he was in violation of probation, and a warrant had been issued for his arrest.  Joe was a drug dealer and addict. He considered that his best option was to leave his two sons with family members and flee to Dallas to hide from authorities.  It was at this low point in his life that Joe Carrasco met Mike Reed, a Sunset trained preacher serving in the small West Texas town of Olton.
When Joe asked Mike to pray for him, Mike refused, telling him, "I'm sorry, but I can't pray for you to leave your sons, avoid your responsibilities and run away from the law." Joe was shocked by Mike's response.  You see, Mike had previously been a drug addict himself.  While in jail for DWI offenses, Mike was taught the truth.  His newly found freedom in Christ was so precious to him that soon after his release he began attending Sunset International Bible Institute to learn God's word more completely.  Mike knew first hand what true repentance looked like.  He had experienced it in his own life.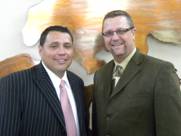 After Joe was released from jail, he began studying the Bible with Mike and attending worship services.  Joe was still involved in his worldly life style, but God's word was slowly beginning to change him.  Joe suffered a massive stroke, and he lay unconscious in a hospital bed for over three weeks.  Mike was there every day and finally after 23 long days, Joe opened his eyes and regained consciousness.  He knew that he had been given a second chance.  After further study, he was baptized into Christ and became an active part of the Olton Church of Christ family.  He had a thirst for the word of God and a longing to teach others the gospel of Christ.  Mike knew where he could receive the training and equipping needed to impact others for Christ. He encouraged Joe to attend the Sunset International Bible Institute.
For the past two years, Joe Carrasco has been commuting an hour each way every day in order to attend classes at Sunset.  He will graduate with almost 500 others from the worldwide Sunset ministry in May 2010 and return to Olton where he was taught the gospel.  Joe is an outstanding soul winner.  He is a living example of repentance and conversion to Christ.  The lives of Mike Reed and Joe Carrasco are living proof of the powerful gospel of Christ.  Through their lives we see the principle of II Timothy 2:2 vividly demonstrated, "And the things you have heard me say in the presence of many witnesses entrust to reliable men who will also be qualified to teach others."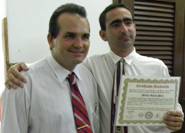 This principle is being lived out all over the world. Just weeks ago, several instructors from Sunset went to teach the word of God and participate in the graduation exercises in Havana, Cuba.  God is accomplishing great things through those who have been taught in Cuba and with this most recent group of graduates, we now have preachers and teachers of the gospel in every region of Cuba!  These preachers of the gospel were sent by their congregations to be taught and trained and are now actively ministering in this island nation. One of our graduates is pictured here with Roberto Pino, the director of our Cuban work.  Around the world, congregations and church leaders are encouraging promising preaching students to come to Sunset for this teaching and training.  You will be hearing more about this amazing mission opportunity!
In Olton, Texas, in Cuba, and around the world, lives are being changed and men of God are being challenged to become preachers and evangelists.  For almost 50 years, Bible students have been sent by individuals and congregations to be trained and equipped and prepared for ministry. We are so grateful to those of you who have helped in sending men and women to study at Sunset and those who have supported the students and Sunset financially to make it possible for preachers and missionaries to be taught, trained and sent throughout the world.
Friends, we need your help to train more preachers and soul winners like Mike Reed and Joe Carrasco.  We need your help in recruiting the next generation of preachers, teachers and church leaders.  We need your help to teach and train able spokesmen in Cuba and around the world. Can you give $13,000 to support a student like Joe through the two year residential program at Sunset or give $6,500 to support a preaching student for a year?  Can you give $2,000 to train a preacher in Cuba?  Of course, even a gift of $1000, $500, $100 or $50 will help us continue the effort to train preachers together and will be greatly appreciated. Can you give a generous one-time or monthly gift commensurate with your ability?  Please don't let this opportunity pass you by.  You can make a big difference!
Let's prepare preachers and evangelists together!
Truitt Adair
President