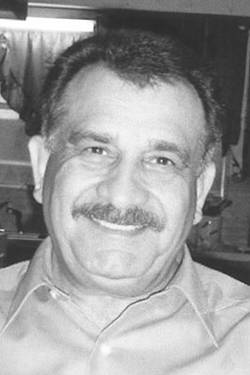 Dear Friends of Armando:

Our dear brother, Armando, went to be with the Lord  this morning, April 9, 2010.  He passed from this life surrounded by his family.  We will update you again when we have funeral arrangements.
Updated 4/14 (video included)
Funeral services for Armando Adan Alaniz, 62, of Pasadena will be held at 2 p.m. Monday, April 12, 2010, at the Church of Christ on Wilkins Street in Angleton with Leland Rodgers officiating. Burial will follow in the Angleton Cemetery.

Visitation will be from 5:00 p.m. to 8:00 p.m. Sunday at Palms Funeral Home.

Armando was born June 12, 1947, in Havana, Texas, to Tomasita G. and Miguel Alaniz and passed away April 9, 2010, in Pasadena.

He attended and taught at Sunset School of Preaching in Lubbock, and also taught at Atlantic International Bible Institute in Haileah, Florida. Armando graduated from Ambridge in Montgomery Alabama, Magna Cum Laude.

He was preceded in death by his father, Miguel Alaniz and brother, Mike Alaniz, Jr., and is survived by his wife of 40 years, Janie Alaniz of Pasadena, mother, Tomasita G. Alaniz of Lockney, son, Armando A. Alaniz II of Angleton, daughters, Gloria Alaniz and husband, Ricky Ransom of Pasadena, Angelica A. Alaniz of Pasadena, brothers, Arnoldo Alaniz and wife, Tammy, Alfredo Alaniz and wife, Dorothy, Adolpho Alaniz, sisters, Aida Alaniz and Jimmy Alatorre, Amalia Gonzalez and husband Ben, Alva Gonzales and husband Hector, Arcelia Rodriguez and husband, Jerry, granddaughter Breña Alaniz, 14 nieces and nephews and 14 great-nieces and nephews.

Pallbearers will be Armando Alaniz II, Mike Garza, Alfredo Alaniz, Arnoldo Alaniz, Aldolpho Alniz, and Carlos Preciado.

Online condolences may be sent to www.palmsfuneralhome.com.