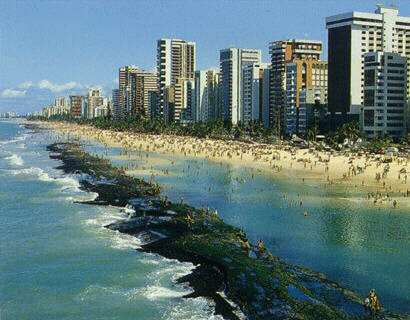 It has been great to be here in Brazil for the last few days. I can certainly see why so many people enjoy vacationing here, living here and serving the Kingdom here. I have enjoyed the scenery, the food, and especially the people.  We had an encouraging worship service on Sunday as we gathered with Christians and Missionaries from all over Recife. On Monday, we were encouraged by several speakers in the lectureship and were able to see even more of the city. The Pan-Am lectures are being held in a hotel that overlooks the beach.  The beach stretches out for miles from my 10th floor window.  You can see in the picture the line of hotels along the beach and the reefs that give Recife its name. It can certainly be challenging to travel the world and do mission work! Oh the suffering!  I 'suffered' through an evening of eating in a Brazilian Churrascaria where waiters continually brought large chunks of meat to the table to allow you to choose the meat you enjoy the most.  In fact, I have 'suffered' through several amazing meals.  It's a blessing to be here.  The people are so friendly and the missionaries who are here with us are such a blessing to the Kingdom of God as well as the nation of Brazil.
I will be writing more about the missionaries later in the week.  Randy and Kathy Short (Sunset grads) are hosting this event along with their co-workers here in Recife and doing a phenomenal job.  The quality of their ministry and the impact they are having is so obvious.  There are a large number of Sunset missionaries here and I look forward to sharing their stories with you.  This afternoon we will be going to an orphanage for children who were rescued from the streets and troubled homes of Recife.  What a blessing it is when God's people dare to reach a benevolent hand to the people that surround them! 
Truitt will be joining me soon.  He will be traveling through the day and will arrive tomorrow.  We will both be teaching at the ministry training school here this weekend.  I, of course, look forward to this.  I have to be going.  It's time to get together for a time of devotion, then lectures on the mission work in Brazil and lessons from 1 Peter, the trip to the orphanage, more study and singing together, and then there is a boat ride down the rivers of Recife that run through the city.  Should be a glorious day. A special thanks to those who support us, without you this would not be possible.