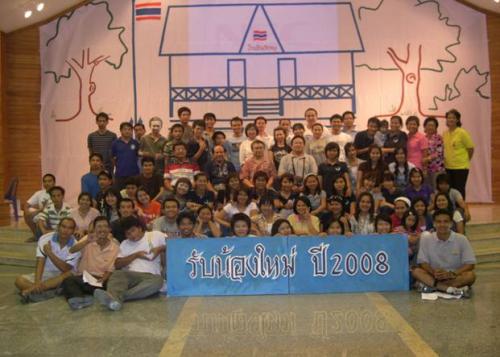 It is amazing to see what God is doing in our Sunset International Schools! There is no way that we could have dreamed or imagined how many nations and peoples of the world we would affect or how many lives would be affected by the gospel of Christ through these schools.  The school in Thailand (pictured here) is a school that we value highly.  They are making a great difference for Christ in Thailand, Laos and other surrounding countries.  What a blessing to see this work continue to grow and develop under God's mighty hand!  I hope that you will spread the word.  I would be excited to come and talk about the growth of the kingdom through schools like these in your congregation.  Just set up an appointment and I will come and present the good news we have to share today!  Aren't we all ready for some good news?
What has been accomplished so far this year through SIBI (Sunset) International Ministry Training schools?  Here are just a few facts (our own top 10 list):
1. We now have 63 schools in 39 countries!  We added another school just today.  The Harare International Bible Institute in Harare, Zimbabwe is the newest member of the Sunset family.  We celebrate this "birth" of a new school and pray that it will grow and prosper.
2. There are more than 2,500 students studying full-time in Sunset ministry training schools with more than 4,400 attending classes including part-time students.
3. There are more than 20,000 students studying using materials provided by our international ministry training schools (does not include the 7,000 people taking external studies classes in Lubbock, Texas). There are more than 6,000 students studying materials and classes provided by our school in Quito, Ecuador alone!
4. There have been 520 graduate from Sunset international ministry training schools in 2009 so far!  This is our most productive year yet!
5. There have been more than 3,500 preachers, teachers and church leaders graduate from our international ministry training schools.
6. There are more than 4,000 pulpits filled with graduates and students of our schools (not including those attending school in Lubbock).
7. There have been more than 145 congregations planted in foreign nations of the world by students and graduates this year (these are the ones we know about - likely many more).
8. The largest school in the Sunset family isn't in Lubbock, or in Texas, or even in the USA, it is in Ethiopia!
9. There are programs to help students learn vocations while they preach, enabling them to minister without foreign support in many cases.
10. There are more and more congregations finding out about these schools and asking for opportunities to partner with Sunset in changing the world for Christ.
All of this reminds me of the words of a beloved hymn, "To God be the glory, great things He hath done."  We truly want to glorify God for blessing this ministry!
Call me at 806-788-3250 or email me at gospelgoingglobal@gmail.com if you would like for me to share stories from this ministry at your congregation and to celebrate what God is doing around the world with the saints where you meet.  It will bless you and your congregation.