We are beginning our preparations to be back at home in the United States for several weeks. While we are there we would like to use our time to rejuvenate ourselves and raise funds. We do not have a working or travel fund. If you would like to become involved or further involved with us we can drive to talk with you if you are within a one day driving distance to Searcy, Arkansas - we must limit our travel due to lack of funding. If you want to fly us to your location and discuss your potential involvement we will be more than happy to come.
Our current flight expenses are $4,500. (If you would like to help us defray this expense, it would be appreciated and helpful). This is for three flights – Deborah, me and Altin Koci – the IBIA translator. Altin has received a U.S. tourist visa and is going to assist us in raising funds for the school and perhaps for his plans to plant a new congregation. We will leave Albania on Tuesday, July 8 and arrive in Chicago. We will then rent a car and drive to Searcy. Altin will fly back to Albania out of Chicago on Wednesday, August 6. He will be in the States for these four Sundays: July 13, 20, 27 and August 3.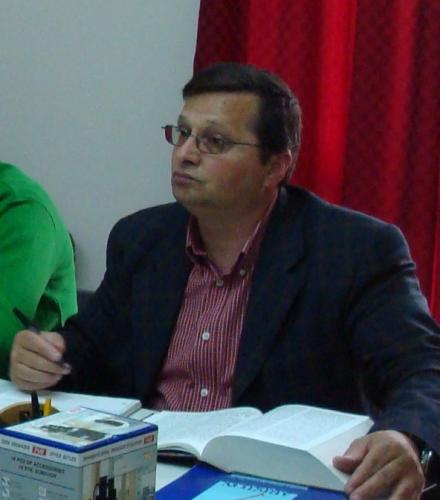 As the school grows, our financial needs also grow. We added another full time student at the beginning of this 4th term. Ilir Kura is 47 years old, married and a father of two teenagers. His family lives in Elbasan – a 1 ½ hour drive from Durres. He stays at the IBIA residence during the week and travels home to be with his family and home congregation on the weekends and during break weeks.
One of our current students, Eri Pellumbi has an older brother, Niri Pellumbi. Niri completes his University degree in linguistics in June. He will be married in July. This young couple would like to begin full time studies at IBIA when classes resume in September. This would require us to raise scholarship funds solely for this couple. We believe we could provide an additional living accommodation as well as utilities and food for $500 per month.
Our current financial needs:
Ongoing monthly funds
Translator funds - $400
House and utilities for a couple desiring to come to IBIA - $500
Travel/Working fund - $500
One time funds needed
Air conditioner - $500
Flights this summer - $4,500
IBIA preachers' and wives retreat - $1,000
For those of you that are already financially partnered with us, we thank you. For those of you that would be willing to consider financially partnering with us, we thank you for taking the time to prayerfully consider our needs. For further information you can contact me at dig4truth@yahoo.com.
Steve Stamatis