Monday, April 21, 2008
Dear brethren: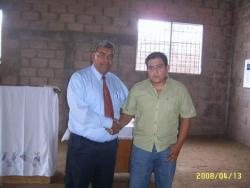 Sunday, 13 of April of 2008, was baptized for pardon of his sins the young man MIGUEL ANTONIO MIRANDA RÍVAS of 22 years old, in the Church of Christ in Quezaltepeque, Department of La Libertad, El Salvador, Central America. This young person attended two Sundays the worship cult, heard four messages, which were sufficient so he understood his responsibility to obey the message of salvation of our Lord Jesus Christ. During this year we have baptized two people. From 3 to the 7 of August/2008, we are planning to have a Gospel Meeting, the preacher will be brother Santiago Molina, of Toronto, Canada. In agreement the date of this event approaches; I will give more information on the matter.
The Church of Christ in Quezaltepeque has continued the construction of the building, the main hall already is qualified for the meetings, although it is not finished in many details, has capacity for 150 people. At the moment has begun the iron and concrete foundations of two classrooms for classes of children, this work will be suspended this week because the church already exhausted the economic resources for this phase of construction. It's really urgent to construct these classrooms because the children receive their classes underneath the trees that are next to the building of the church, soon, the rainy station is about to begin at 1º of May.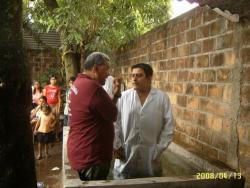 We always requested yours prayers by all the missionary work that we made, as well as by our personal necessities. God blesses so much to each one of you in your spiritual lives as in the material necessities!
Affectionately, in the Love of Jesus Christ,
Alexander & Silvia Castellanos
alexsil@telesal.net
(503) 7856-0542
El Salvador, Central America.