Friday, February 8th, 2008
Dear brethren:
Sunday, January 20th, 2008, was baptized for remission of her sins KRISSIA YAHAIRA RAMOS SANCHEZ, she is a young of 18 years old, that throughout year 2007 was attending the meetings that regularly we celebrated all Sundays, so that, she obeyed totally conscious to the Lord. This is the first fruit of year 2008. Krissia is daughter of sister Leticia Sosa Ramos, who also obeyed Sunday, November 4th, 2007. Her father was visiting the church for several years, we hope someday he obey the Word of God.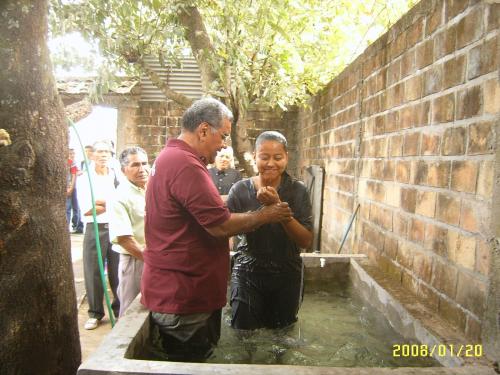 With much joy we informed that during year 2007, nineteen souls were baptized for pardon of their sins in the Church of Christ who meets in the City of Quezaltepeque, Department of La Libertad, El Salvador, Central America. This it was effort that the church began in January 2007 preaching the Gospel to relatives people of members of the church. This year, in view of the excellent results acquired in 2007, the church has continued with the same strategy for year 2008.
We ask to each one of you, pray fervently for these twenty souls that born of the water and the spirit in order that they persevering faithful to our Heavenly Father and the Lord Jesus Christ, and that the Holy Spirit be permanently in all of them.
"In the Love and For the Work of Jesus Christ, our Savior in El Salvador",
Alexander & Silvia Castellanos