By Rilda Perry
2007 has been an especially busy year for missions among the SAIM group. Following are some of the trips made this year.
AFRICA
DON AND RILDA PERRY spent January and February in Botswana and South Africa working with the SIBI branch school in Botswana and with Indian congregations in Durban, South Africa. This is an area where they lived and worked in the1960's and 70's.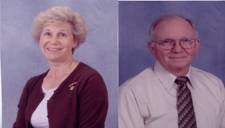 EUROPE
Seven of our Senior AIM group spent the month of July working with the Sopot International Bible School in Sopot, Poland and then in Kosice, Slovakia. We taught the Bible using English in Sopot and in Kosice we taught classes to encourage the Christians. Those making the trip were JANIS MITCHELL, LOUISE ANDERSON, DOE LARRABEE, STUART and CECILIA JONES and DON and RILDA PERRY.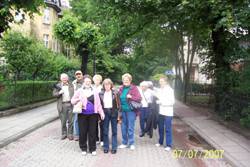 Besides the trip to Slovakia in July, DON spent the months of April and then September through November in Kosice, Slovakia re-establishing the English Bible Study Center and teaching classes as well as encouraging and training the local Christians.
AUSTRALIA
BONNIE DOUGLAS, a recent SAIM alumnus, is spending six months visiting and assisting the church in Albany, Western Australia.
MAX MEADE, an Australian national, has spent the last three months assisting in preaching and encouraging the Christians in Albany which is his home congregation.
ASIA
JOY and CHARLES SMITH, who are SAIM alumni, spent six months teaching English in Shanghai, China.
STATESIDE FIELD TRIPS
A SAIM group made a trip this past spring to York, Nebraska for ROUNDUP. Those making the trip to York were BONNIE DOUGLAS, LETA SARTEN, WANDA DuBOSE, VECIL FREEMAN, MARY JENKINS and STUART and CECILIA JONES.
STUART and CECILIA also made a trip to Bartlesville, Oklahoma to promote Senior AIM. Their presentation was to a group aptly titled "We're Not Finished Yet."
MISSION OPPORTUNITIES
The following three mission opportunities would be a great way for Seniors to become more involved in missions if that is where your interest and talent lies.
CAMERON PARISH, LOUISIANA
The opportunity exists to help plant the Lord's church in this parish. The group involved in this work is busy helping those in the community with rebuilding following the hurricanes in that area as well as with Angel Tree Ministry. They are also trying to distribute materials to 500 - 1000 homes. They would like for people who come to commit for one month at a time if possible. For more information contact BRIAN SPICER, 104 Beverly Place, Sulphur, LA 70663, cell phone 337-263-3054, or 337-625-5732.
KOSICE, SLOVAKIA
We have an opportunity to work with the local Slovak Christians to teach the Bible using English language. A curriculum is already established. We just need people to come for 2 weeks to one month or whatever time you can spend. A two bedroom apartment is available within 5 minutes' walking time of the meeting place as well as near tram stops. Your life will never be the same following your time spent with these wonderful, American friendly people. For more information contact DON or RILDA PERRY at donrilda@nts-online.net, or call 806-786-6348 or 806-786-6345.
TALLIN, ESTONIA
There is a need to encourage this church which needs mature Christian leadership, especially males. An apartment is available for $400 per month plus $250 for utilities. With a passport you are able to stay for 90 days in a 6 month period. For more information contact mbanks1615@hot.mail.com.
Come join us in SAIM and establish relationships that will encourage you daily. Our next teaching session which begins January 14 - March 11 will be entitled "How We God to Where We are" (The Church in History).
Contact STUART JONES at senioraim@sibi.cc, or call 806-788-3260 or 800-658-9553.

Cecilia Stuart