Greetings in the Lord dear loved ones and friends,

We hope this finds you very well this day.  Just wanted to let you know we've been thinking and praying for you all this week.  We thank God that each and every one of you have been placed in our life.  You are the imperishable treasure in our hearts that cannot be taken away by the corruption and disintegration we see going on all around us in this world.

Many of you have been dropping us a line asking about how things are going here in Greece, with all the news about the economic turmoil the country finds itself in.  Yes, the Greek government is working as hard as it can to correct a very difficult situation the country finds itself in.  And, yes the people are upset with the many belt tightening measures the government is imposing on them.  Nobody likes it when the money goes away, but they do realize that something must be done.  Hopefully the country and the people continues to move forward.

In the meantime, Diana and I are holding our own.  The inflation is indeed high, probably the same as back home, but thankfully the dollar is rallying a little, which sorts of evens things out.  We are doing ok.

TWO BITS OF WONDERFUL NEWS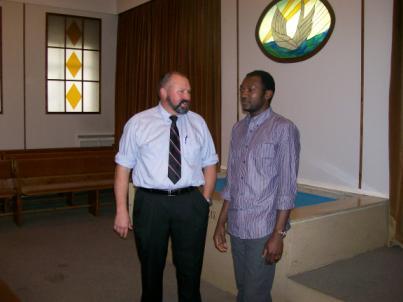 The first bit of wonderful news.  Last Saturday, one of our students, Oliva Musa Bawa was baptized for the remission of his sins.  One of the classes he is in is Ray Hull's Fundamental Theology.  He came up to me during morning break and said he needed to talk to me.  I always get excited when that happens, because I generally know what follows.  Sure enough he said that as he's been sitting in classes these past months, he has learned that he's been missing something very important.  I asked what it was, and he said that he had not be baptized properly before and wanted to be baptized for the remission of his sins.  I asked him, as always, when he wanted to be baptized and he said quickly, "As soon as possible."

I then asked him who he would like to baptize him and he looked at me funny.  I guess he thought I would automatically be the one to do it.  I explained that I would be honored and thrilled to be the one to do so, if that's what he would like me to do.  But then since he has been sitting in Ray's classes this term, maybe he'd like to have Ray do so, since he's been the one teaching him this month.  I gave him a little bit of time to think about it.  He then chose Ray to baptize him.  I was thrilled, because it is such a pleasure to get to share in such a wonderful event as this.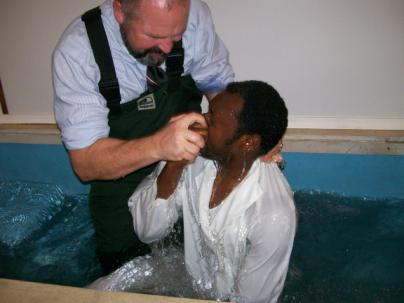 It's always such a blessed event.  We gathered in the auditorium for chapel that day and Ray Hull was very happy to do the honors.  It's always such a blessing to see the excitement in a new Christian's eyes as they give their lives completely over to God and realize their sins have been washed away forever.  Oliva came out of those waters with excitement in his eyes.  Ray reports that it almost looks like he'd been stunned.

THE SECOND BIT OF WONDERFUL NEWS

Yesterday our paperwork was accepted by the Greek government which will renew our visa for the remainder of our stay in Greece this year.  Our Visa was set to expire on the 11th of this month, next week, and as always we were under the wire to get it turned in on time.  We finally got it all assembled and submitted in good order yesterday.  The government reports our new visa should be ready to be picked up in about a month's time.  Generally it takes about three months, but then again, we do have a God that is so much bigger than the governments of this country.

God can not only direct the hands of a national government, HE can direct the growth of the seed of salvation in one individual's heart.  He's such a good God isn't HE?  We praise His Name.

We pray you have a very great rest of the week.

In HIS Mighty Name

Ron and Diana Kretz

Athens