I continue to be thankful for the opportunity to minister to the needs of people in Haiti.  The need is overwhelming and resources insufficient for all that could be done.  What we have we are using, and people are so very thankful for anything that we offer.  It is hard to describe the devastation that has come into these people's lives.  They have endured so much, and yet they are unbroken.  They are a remarkable people.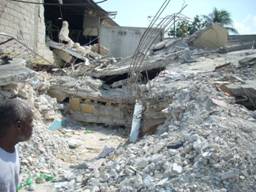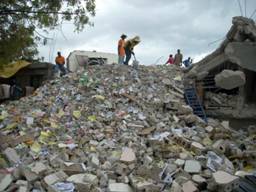 The last two days in Port au Prince have seen us trying to slay the ancient dragon of bureaucracy.  There have been signatures needed in order to pick up the tents we had shipped in. One man was not available to sign until 4:00 pm yesterday; however, only then (after he did eventually sign) were we told that we needed a customs signature. 

We spent the day today delivering rice, beans and oil to four churches in the city.  After working some more on signatures and realizing we would not acquire the tents today, we set off to do what good we could.  First, we went to the Christroi district and met with brother Ahlen. Then we met with Brother Demosthenes in the Carre Four district.  His meeting place is on the second floor, so it made it difficult to carry the 110 pound bags of rice for them to secure.  Later we made our way to help the congregation that Felix leads in the Varre district.  After that we brought aid to Yvan of the Sarthe district.  Both Felix and Yvan have lost their homes and meeting places.  Below you see the tent Felix is living in.  This doubles for their meeting place.  Yvan is staying in the empty home of a relative.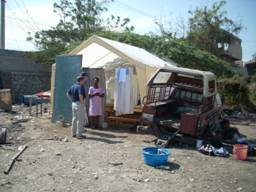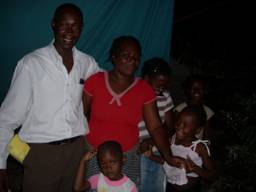 I will be leaving tomorrow and relying on the capable work of David Dirrim to see the tents through customs and into the hands of those who need them.  It has rained the last two nights, and we have just ached in our hearts for the hundreds who could have had better shelter were it not for delays.  Upon my arrival in the States we will try to update everyone further on what we have found and what is being done with the funds that have been collected.  Until then, please continue to pray for Haiti.