My time thus far in Haiti has introduced me to some wonderful brethren who are advancing the cause of the kingdom and initiating help for the hurting of this country.  The Lord through his servant James tells us what pure religion is all about.  He encourages us to care for the widows and orphans.  Fanrose is one such brother.  Pictured below he is standing with Dale Huff (the director of our school in Cap Haitian.  Over and over the preachers I meet tell me of all the people who flooding into their homes from Port au Prince.  Fanrose is taking care of two children of his deceased brother.  He is active in training preachers and is much respected in the community of brethren in the Cap Haitian area.  Through men like him, the gospel of Christ is being portrayed for all to see.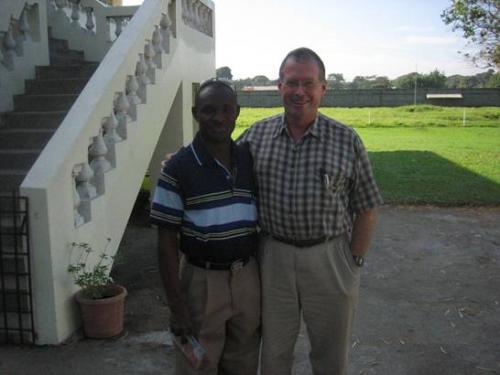 One preacher that I visited with has 15 people living in his small home and he is doing all he can to feed and shelter them.  Another brother who runs a small orphanage has seen his numbers go from 40 to 60 almost overnight.  I wish we could all understand the trauma that the earthquake has caused to the most vulnerable members of Haitian society.  Imagine losing a parent, a home, your school, being displaced by 100 miles wondering where your next meal is coming from, when you are only seven years old.  I praise God for those who are caring for the children and trying to bring some sense or normalcy to their lives.

There is much to do in Haiti.  Survival is really the order of the day and the necessities of life must be met.  Below is a picture of David replacing a water pump.  This deep well offers good drinking water and is used not only for the benefit of the school but to help out those living nearby to have something clean to drink.  We are meeting physical needs by more than anything we are offering the water that wells up unto eternal life.  People from Haiti and all over the world are showing themselves to be great servants of humanity and lovers of souls.  It is a privilege for me to be near them.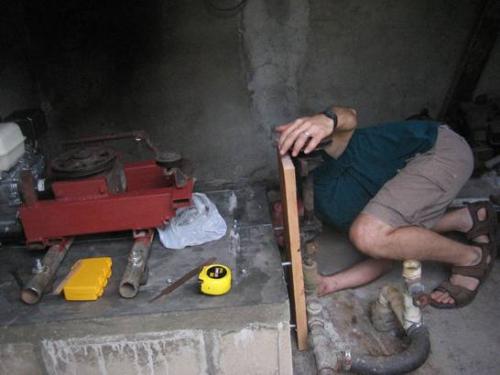 As I looked out from the balcony, I could hear the steady, rapid beat of a wooden drum.  Along with it were heard the shouts, screams and songs in Creole.  Friday was a national day of morning.  Churches gathered, a great fast was proclaimed and a nation considered its pain and difficult future.  The sound I heard was not from a church beyond the banana trees, but from a nearby voodoo site. David and I walked over to see what was happening. In the ruins of a very old French plantation they gathered.  In an old gristmill area live some large fish that are spiritual symbols of this area.  There was a great crowd there.  More than would usually come and people were coming and going in quick succession.  People were dancing and shouting.  Others were eating and drinking rum.  Some were selling things.  Whether for gain or for spiritual insight, many were there.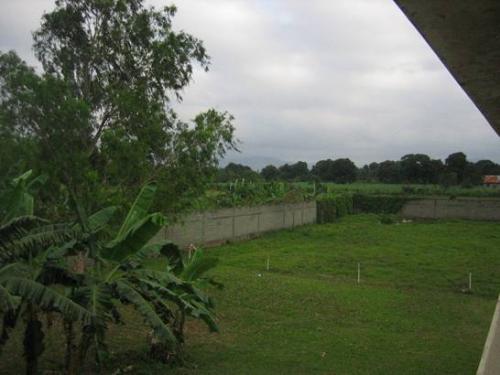 This is an important time in Haiti's history.  It is a land very familiar with tragedy and hardship, but people here tell me that there is more spiritual concern than has ever been known.  They are turning to any source they can find to bring meaning to the world around them, but you and I know that true meaning and eternal security are found in no other name under heaven beside the glorious name of our Savior, Jesus.  Now is the time to focus all of our efforts to show Christ by meeting the physical needs of those around us and to give the bread that comes down out of heaven.  We must seek ways to make Jesus known in all His truth to the people here.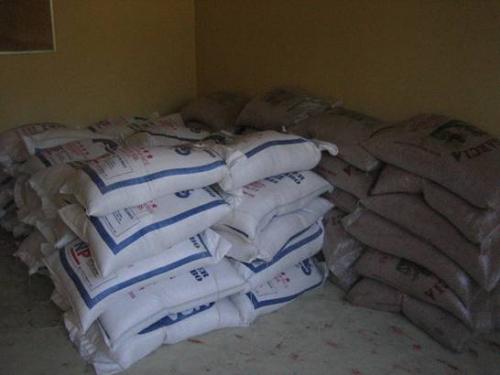 Above are some of the food items that we are giving out to needy brethren.  Whole church families are in upheaval and we seek to help those, who like us, where the name of Jesus.  These bags of rice and beans are destined in a truck for Port au Prince.  They will relieve some of the suffering of our brethren there.  We will also be sharing more with those who have not yet called on the name that is above all others.  They share the same plight as our brethren and they must be helped and shown the love of Christ.

I continue to be amazed at what has taken place here and seek in very brief form to help you understand what is going on.  I don't have internet access and send what I can when I can.  Please pray for us and this all important mission.