My first day and experience in Haiti consists in my bus ride across the border from Santiago, Dominican Republic.  As we drove nearer the border in Dominican, we could see the towns and people becoming poorer.  One notices at the border that those who are doing the manual labor and carrying are of darker complexion.  The women are carrying things on their head and it is amazing to see how they balance such large and cumbersome loads.  We saw quite a few rice fields, and recognizing it as a staple, along with beans in the Haitian diet, we can easily understand why there are so many fields of it.  It reminded me of those I have seen in Korea, only flatter.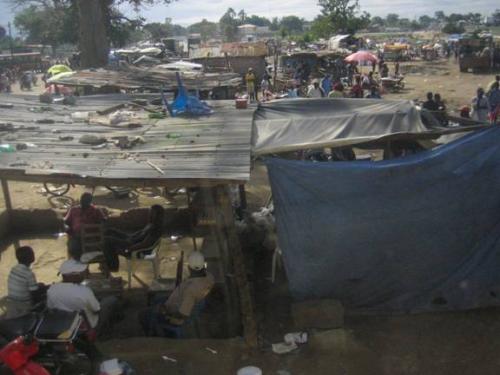 Upon arrival in Cap Haitian, you are struck by the sheer number of people on the streets and those who are selling whatever they can fit on a small table in front of them.  At least they have something to sell.  We were met at the bus station by Dale Huff and David and Sarah Dirrim.  They have worked in the Cap Haitian area for many years and take turns as directors of the school of preaching.  I am staying in the school facilities while here in Cap Haitian.  I am grateful for the work that has gone into this campus and for the welcoming spirit of all I have met.  I do not have internet, but hope to find a place in town that will afford me a connection.  When I have opportunity, I will send what I have written to that point.  I plan to use my camera as an external drive to hold these reports since everywhere I go; I will have it with me.  Scratch that idea, the camera won't accept the file.  I'll carry a memory stick too.

My first evening and next morning have been spent learning what needs exist in the church and among the refugees to Cap Haitian.  Many of the congregations have seen their attendances swell in the wake of the earthquake.  Some of those are refugees; others are merely those whose spiritual interests have been peaked following the disaster.  One congregation has seen a number of baptisms and several are scrambling for more space to worship.  Time will tell how faithful these attendees will be, but we must pray that they will truly seek the Lord and will allow themselves to be grounded in the word of God.