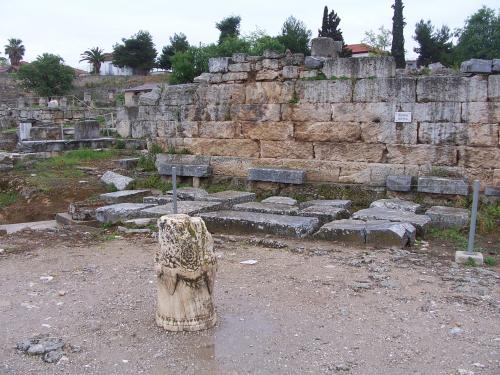 When walking through Ancient Corinth, you can't help but be drawn to a wall, a stone floor and a piece of stone column looking remarkably like a pulpit or speakers stand. It's the stone pavement where issues were discussed, opinions stated, and judgments handed down.  It is one of the places in the ancient world where we know the Apostle Paul spoke and defended His teaching of Christ.
Walking through the museum, walking up and down the streets of the city, looking at the foundations and walls of the old city makes you realize that the words that we read in Scripture happened in a real world context.  Real stones, real buildings, real people.  We know this, of course, but it becomes so much more real when you stand in places like Corinth.
As I stood among the ruins, I thought of all the problems Paul discussed in his letter to the people in Corinth. Their worship, fellowship and spiritual world was crumbling, because they lost focus on the simple message Paul taught them and fought with one another, took one another to court, overlooked sins, desecrated the Lord's Supper, etc.  Paul's message (I Cor. 2:2) was a simple one: Jesus and Him crucified.  Paul preached what was of first importance, the gospel or death, burial and resurrection of Jesus (I Cor. 15:1-4).  The Christians in Corinth lost track of what was important and things began to crumble.  There's a lesson there for all of us.  We need to focus on Jesus, the gospel and the solid teachings of inspired men like Paul.  If not, our lives may end up "in ruins".